Window replacement plays a vital role in improving the overall performance of your home. It helps increase comfort, improve airflow, and boost energy efficiency. If your windows are now old and drafty, make sure to replace them with units that improve your quality of living.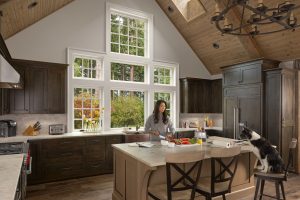 Here, we share the top four reasons to choose high-performance, energy-efficient windows for your home.
1.     Lower Energy Cost
Energy-efficient windows are engineered to moderate the temperature inside your home. They can help your property stay warm during the winter and cool in the summer. With energy-efficient windows, you can save on your annual heating and cooling costs by up to appx. 20%.
2.     Increased Comfort
Conventional windows, especially older ones, are prone to drafts, air leakage, and heat loss. This can cause your HVAC system to become overworked as it tries to maintain a comfortable indoor temperature. To prevent your heating and cooling equipment from breaking down early, invest in high-performance, energy-efficient windows. They provide better insulation, maintain a higher surface temperature on interior glazing, and are more capable of keeping your home's temperature in check.
3.     Improved Noise Absorption
When looking for replacement windows, you should choose high-performance units that are made with inert gas fills to minimize sound transition from outside to inside. Opt for multi-pane windows instead of single-pane units to keep more of the outside, outside.
4.     Protection from UV Rays
Energy-efficient windows are made with low-emissivity (low-E) glass that keeps heat out and repels UV rays, significantly reducing heat transmission. This feature protects your floors and furniture from fading.
If you're looking for a professional, experienced, and reliable window contractor for your window replacement project, we're the right company to call. We offer window replacement services in the Greater Vancouver Area, the Fraser Valley, Victoria, Nanaimo, and Campbell River. Give us a call today and schedule your free consultation with our team of experts.