Our Fibrex® frame material is a combination of the best features of wood and vinyl. In this post, we'll address some of the most common questions about this unique material.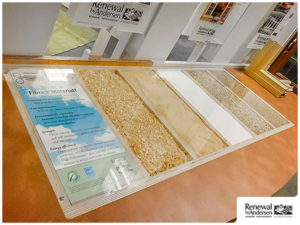 1. What is Fibrex made of?
Fibrex is a composite material that is made of wood fibers and polymer. It is stronger than fiberglass, which is made of polymer and extruded glass fibers, and has a lower maintenance requirement than vinyl. Andersen® Corporation started developing Fibrex® in 1958 and patented the material in 1991.
2. Are all your window frames made of Fibrex®?
Yes. This composite gives our technicians the ability to build custom windows of any size, shape, or profile without sacrificing aesthetics and long-term performance. When we were founded as a full-service window replacement company, one of the key decisions we made was to use Fibrex® in our window frames and in some of the structural components of our patio doors.
3. Is Fibrex® eco-friendly?
Absolutely! Andersen windows are one of the most sustainable building products available. Approximately 40% of the wood fibers used in manufacturing come from reclaimed wood trimmings at our woodworking facilities. We also have control over our own supply chain, including raw material and logistics, which helps keep our carbon impact low.
4. Is Fibrex® protected by warranty?
The warranty that backs a product says a lot about its quality. All Renewal by Andersen windows are backed by one of the most comprehensive warranties in the industry. Our windows include a 20-year limited warranty for the window and a 10-year limited warranty for parts.
5. How can Fibrex® help me save on utility bills?
Our replacement windows are double pane at a minimum, which, when combined with the insulation of Fibrex®, slows down thermal transfer. Our replacement windows are certified by ENERGY STAR® for energy efficiency. They help maintain consistent indoor temperatures and reduce indoor heating and cooling requirements which reduces the workload on your HVAC system and helps you lower your energy bills.
Take a look at our video for a more detailed look at Fibrex®:
At Renewal by Andersen of British Columbia, we combine the advanced technology of Fibrex®, expert window and door installation, unique design combinations, and a start-to-finish process that revolves around your needs. We offer window replacement services in the Greater Vancouver Area, the Fraser Valley, Victoria, Nanaimo, and Campbell River. Give us a call today and schedule your free consultation with our team of experts.