Although new windows can be installed at any time of year, spring is generally considered the best time of year for window installation. With the warming temperatures and longer days, it's a great time to consider having new windows installed in your home, as new windows will let in more light and fresh air while giving your home a beautiful new look. Let's look at a few more reasons why spring is the most popular time of year to install new windows.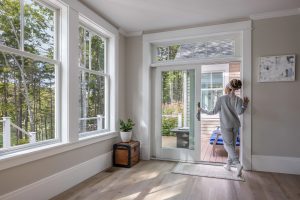 1. Increased natural light: Spring is the perfect time to take advantage of more hours of sunlight. Newer window styles tend to have thinner frames, so more light can shine into your home.
2. Improved curb appeal: New windows can increase the value of your home by hundreds or even thousands of dollars, especially if they're custom-made. New windows are more attractive than old ones, which tend to look outdated after years or even decades have passed since they were installed. New windows can also help modernize the look of a home, especially if you choose a striking color or style.
3. More energy savings: New windows will keep your home warmer in the winter and cooler in the summer, which means less energy consumption and more money in your pocket! You'll stay cool for less during the approaching hot summer days.
4. Better security: Unfortunately, when temperatures increase, so do the number of break-ins and home invasions. Single-pane windows, old and faulty hardware, and windows that don't seal shut won't offer the protection of double or triple-pane windows with Fibrex® frames, and functioning windows.
5. Increased property value: Spring is a popular time of year to sell your home. Many homes go over the asking price and you can maximize the profit by choosing replacement windows as an exterior upgrade. These windows will increase the curb appeal of your home and make it more attractive to potential buyers. According to the 2023 Cost vs Value Report by Remodeling, replacement windows provide a 68.5% return on investment!
6. Better weather: Spring is the ideal time for window installation because it's warm enough to get the job done but not too hot—you can install new windows without worrying about discomfort for your family.
After enduring the long, dreary winter, you'll be ready to fully embrace the lighter days with new windows at a price that won't break the bank. We can help you achieve this. Give us a call today or fill out our contact forms to arrange a free consultation with one of our Design Consultants. We offer window services in the Greater Vancouver Area, the Fraser Valley, Victoria, Nanaimo, and Campbell River.