Sliding patio doors are a popular feature, providing a seamless transition between indoor and outdoor spaces, uninterrupted views of the outside, and natural light. However, like any other house component, sliding patio doors can pose their own challenges. From issues with functionality to concerns about security and energy efficiency, it's essential to be aware of potential problems.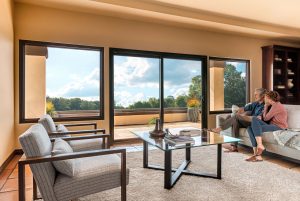 In this blog post, we'll explore six common issues homeowners encounter with sliding patio doors and provide practical solutions to overcome them. Let's dive in and discover how to address these common problems.
1. Stuck Doors
One of the most common and frustrating problems homeowners may encounter with sliding patio doors is when they become stuck or difficult to open and close. This issue is often caused by debris—dirt, dust, hair, and fur that's accumulated in the door tracks, clogging the rollers. Start by thoroughly cleaning the tracks with a brush or vacuum cleaner. Then, apply a sliding-door lubricant to the tracks and rollers to promote smooth movement. If the problem continues, it might be necessary to adjust the rollers or check for any structural issues with the door frame that could be causing the obstruction.
2. Alignment Problems
If your sliding patio door doesn't align properly, it can result in air leaks, difficulty opening or closing, or even damage to the door itself. Begin by examining the door's alignment by checking for any visible gaps or misalignment when the door is closed. Adjust the rollers or tracks as needed to ensure proper alignment. Realign your doors by removing it from the track and reinserting it to rectify this problem. Be sure to readjust the screws if needed. Sometimes, consulting a professional for a more complex realignment task may be necessary.

3. Broken Latches
A broken latch can compromise the security and safety of your home. If your sliding patio door latch is malfunctioning or has broken altogether, it's essential to address this as soon as possible. Inspect the latch mechanism to identify any visible damage or loose components. If it's a minor issue, such as a loose screw, tightening it may solve the problem. If it's stuck, a simple oiling will usually do the trick. However, if the latch is damaged beyond repair, unscrew, remove, and replace it with the same model. 
4. Shattered Glass
Accidents happen, and occasionally a sliding patio door's glass can shatter, resulting in both a safety hazard and a decreased energy efficiency. In the event of shattered glass, it's vital to prioritize safety. Wear protective gloves and carefully remove any remaining glass shards. Contact a professional to replace the broken glass with a new and secure panel. It's also an opportunity to consider upgrading to impact-resistant or energy-efficient glass options.
5. Torn Screens
A torn or damaged screen can be unattractive and fail to offer protection against insects. Fortunately, addressing this problem is often straightforward. Begin by carefully removing the damaged screen and taking measurements to ensure an accurate replacement. You can find pre-made replacement screens or consider creating a custom screen to fit your specific door dimensions.
6. Broken or Worn Seal
Broken or worn-out seals can lead to air and moisture leaks, resulting in reduced energy efficiency and potential water damage. Inspect the weatherstripping and seals around your sliding patio door for any signs of wear or damage. If you identify areas needing attention, replace the old weatherstripping with a new one.
Getting your windows and doors replaced by Renewal by Andersen of British Columbia means experiencing unmatched quality, customized solutions, and outstanding customer service. If you're ready to transform your home's appearance and functionality, call us today or fill out our contact form to arrange a free consultation with one of our Design Consultants. We offer window replacement services in the Greater Vancouver Area, the Fraser Valley, Victoria, Nanaimo, Campbell River, and the Okanagan.