Christmas is just around the corner, and if you're one of those people who have had their decorations up for a month already, good for you! But if you're scrambling for some last-minute festivity, we've put together some fast and easy window decorations you can make with items lying around your home or just outside your door.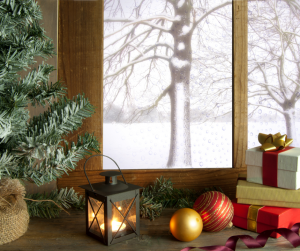 Read on for six easy decorations that never need more than three items.
1. Book Page Snowflakes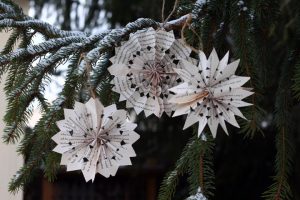 source: thinkcrafts.com
If you love upcycling—turning something old into something new—you might want to grab that stack of old or damaged books that you've been meaning to donate. A book, a pair of scissors, and some string are all you need to pull off this wonderful winter decoration.
2. Hanging Pinecones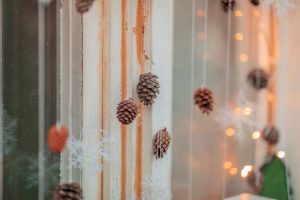 source: diys.com
Hang pinecones from your windows for an easy and seasonal decoration. To begin, head outdoors and gather some pinecones. Once you have your pinecones, tie some string to each one, then stick them all to your window with transparent tape. It's as easy as that.
3. Recycled Paper Snowflakes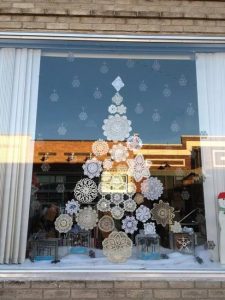 source: lushome.com
A little bit of recycled paper, some transparent tape, and a pair of scissors are all you need to make this beautiful assortment of snowflakes. Hang from the window, large or small, or arrange in the shape of a Christmas tree and stick to the glass as seen here.
4. Cinnamon Stick Candle Holder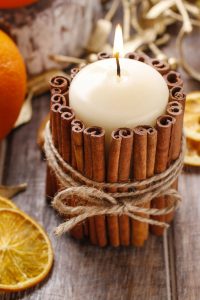 source: gardentherapy.ca 
First, you will need a plain candle holder or a small glass and a bunch of cinnamon sticks. Then, you can either glue the cinnamon sticks one by one vertically against the outside of the candle holder, or wrap string, ribbon, or lace around the sticks to secure them tightly. Pop a candle inside and place on your windowsill for a warm and deliciously scented festive decoration.
5. Cupcake Liner Garland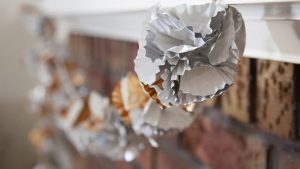 source: bettycrocker.com
All you need are some cupcake liners, a pin, and ribbon or string. Thread the cupcake liners onto the string making a small hole in the center then string in alternating colours and secure with hot glue if necessary.
6. Dried Orange Circle Decorations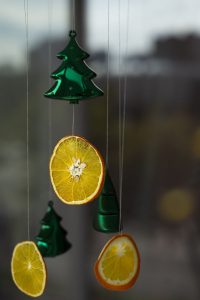 source: diys.com
To make this decoration, all you need are some large oranges and a knife to slice them into thin pieces. Don't slice them too thinly or  they'll collapse. If you want variety, try using slices of different sizes. Otherwise, use only the center three slices for uniformity. Dry in the oven or food dehydrator. Then, use twine, fishing line, or another type of thread to tie them up in your windows. Try combining with other ornaments .
There's something extra special about seeing handmade decorations. Whether you're crafting for the first time or are already a seasoned maker, we hope that you've enjoy these ideas for DIY Christmas decorations and wish you and yours a happy holidays.