British Columbians know winter is a long, cold, and wet season. Understandably, we want to keep warm inside and keep the cold outside where it belongs. Ensuring windows and doors are properly maintained can do a lot to help keep the cold out. In this blog post, we look at 7 ways to do this.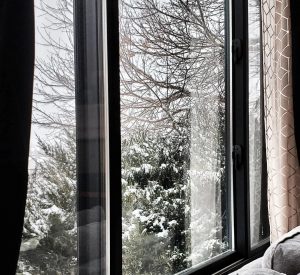 1. Look for damage and gaps.
When winter comes, it's easy for cold air and drafts to penetrate through door frames and window sills that aren't properly sealed. To prevent this from happening, check your entry doors and exterior windows to see if they close all the way, with no gap left. Additionally, check if there are any damage or cracks in these areas. Regular inspection of your windows and doors will go a great way in presevering them. A routine examination will alert you when the damage is minimal and can be easily fixed.
2. Inspect for air leaks and caulk.
Drafts are the most common complaint you hear about windows during winter. The good news is you can often eliminate the issue by simply caulking your windows. Air leaks most often appear around your window or door frame, so inspect the frame for any cracks or visible gaps. Sometimes you may not be able to see the crack but can feel the outside air seeping in. Once you have identified the areas that require caulking, clean and remove any old caulk. Use the caulking on stationary joints and around the frame. Caulking can play a big role in preventing air leaks and help save you money on hydro bills.
3. Check the condition of weather stripping.
When weatherstripping wears out, cold air will leak through the spaces, and warm air from inside the home will slip out. The damage may not be easily visible in some cases, so you should check carefully that the stripping is intact, preferably after every season. If there is minimal wear and tear, the stripping can easily be fixed, but if there's extensive damage to the weather stripping, you should consider getting it replaced. In most cases, repairing the weatherstripping will be cheaper than the increase in heating bills.
4. Remove exterior window screens.
When snow starts to fall, you may notice that your windows get covered in snow and ice. In particular, you may notice a build up of snow between the glass and the screen. When snow builds up on the sills it can cause damage to screens and windows. The moisture around your windows could do some serious damage to its parts and could also lead to mold and mildew. Luckily, there is one easy way to prevent this from happening: remove your exterior window screen before the first snow fall. Removing the screen ensures less snow will collect on window sills and allows more warmth and natural light into your home during winter months. Bonus: removing the screen will prolong its life!
5. Install storm doors and windows.
Storm windows and storm doors are specially designed to protect your house from the harsh elements of the weather. They include extra insulation layers, which increase their energy-efficiency. In most cases, storm windows are installed over your existing internal and exterior windows, which is why they help conserve indoor heat.
6. Add heavy curtains and drapes.
Heavy curtains are an excellent heat preservation option during the cold winter months. They act as an extra layer of insulation between your home and windows, keeping you warm and cozy. And since quality drapes are relatively cheap compared to other options, it's a great way to help save on winter heating costs. Another great feature is that they're easy to adjust; you can open them when it's warm out or close them when it gets cold.
7. Install energy-efficient windows.
Last but not least, we recommend upgrading to energy-efficient windows. Single pane windows and old doors lose a lot more heat, significantly raising your energy bill. An excellent and long-term solution is investing in energy-efficient windows and quality doors. While they may cost more, they will make up for it in the energy, and money, saved during winter. Double-paned windows, for example, offer twice as efficient insulation as single-paned ones, and triple-pane, if you're in a frigid environment or wish to maximize insulation, offer triple the insulation.
Renewal by Andersen's custom-made windows are designed to fit your home perfectly. Installed by experts, you can be assured that drafts won't be a problem. In addition, our windows are ENERGY-STAR® certified, with frames made from our exclusive Fibrex® material which insulates 700x better than aluminum. If it's time to replace your windows or doors, give us a call or fill out our contact form to schedule a consultation. We offer window replacement services in the Greater Vancouver Area, the Fraser Valley, Victoria, Nanaimo, and Campbell River.