When summer temperatures soar, it's easy to feel like your home is too hot to enjoy. But there are plenty of ways to beat the heat without turning on the air conditioner. Here are 7 tips to stay cool inside during the hot BC summers: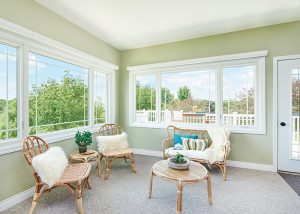 1. USE FANS
Ceiling fans, table fans, and tower fans all help to circulate air throughout the home. Fans are a more affordable option than air conditioning because they use significantly less energy.
2. USE AWNINGS OR SHUTTERS ON SOUTH AND WEST-FACING WINDOWS
Window awnings can reduce solar heat gain in the summer by up to 65% on south-facing windows and 77% on west-facing windows. These outdoor window treatments still have the benefit of allowing a breeze to pass through open windows.
3. CHECK FOR AIR LEAKS
Doors, windows, vents and other openings in your home, even small cracks in your home's foundation, can let in the heat. Make sure all doors and windows are properly weather-stripped, and consider installing an energy efficient door sweep on all exterior doors to create an airtight seal, preventing cool air from escaping.
4. USE LIGHT COLOURED PAINT
Use light colours on the walls and floors of rooms that face south and west. Additionally, painting your home's exterior in white or light colours will reflect most of the sun's heat away.
5. USE WINDOW COVERINGS
You can keep the heat out by using shades and blinds to control sunlight coming into your home during the hottest part of the day. However, keep coverings pulled back during cooler times to let in air flow. Try to create a cross-breeze by keeping multiple windows open.
6. INCREASE YOUR GREEN SPACE
During hot weather, grass, trees, and plants lower air temperature significantly. Water them regularly. Water also lowers air temperature. A misting system is an efficient way of watering plants while keeping water use, and temperatures, low.
7. REPLACE SINGLE-PANE GLASS
Double-pane glass significantly reduces heat transfer due to the insulating air space between the glass layers, making it especially good for south and west-facing rooms.
Helping you find the right windows to make your home comfortable while still enjoying the view is what Renewal by Andersen does best. We offer window replacement services in the Greater Vancouver Area, the Fraser Valley, Victoria, Nanaimo, and Campbell River. Give us a call today and schedule your free consultation with our team of experts.