Summer is a time to go outside and enjoy the weather, but it also means that your hydro bills can run high due to cooling costs. If you're trying to conserve as much energy as possible while still enjoying yourself inside and out, keep these seven tips to cut costs in mind. You might even save a little money at the end of the month!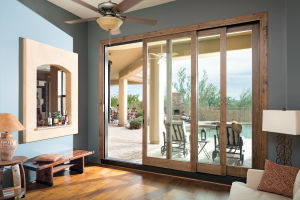 Tip 1
Turn off lights when you leave the room and unplug appliances, or choose energy-efficient appliances and lightbulbs, such as LED. Don't forget to turn down the temperature on your water heater!
Tip 2
Air conditioners use more energy than other types of cooling systems, so if you have a choice between central air conditioning and portable units, choose the latter. Parts of BC are hotter than others; if you're in a region where the temperature isn't consistently above 25 degrees Celsius, you might not need central air conditioning. A fan could be all that you need.
Tip 3
Of course, energy-efficient windows can go a long way in reducing those hydro bills! Our windows are made from high-performing Fibrex® which is twice as strong as vinyl and blocks thermal transfer nearly 700 times better than aluminum. They're also ENERGY-STAR® certified, exceling even in the harshest of climates.
Tip 4
Change the air filter regularly on air conditioners and fans. Air conditioners draw in large quantities of dirt and dust from the outside, which eventually builds up on your unit's cooling coils and reduces its efficiency. A dirty air filter leads to higher hydro bills as it reduces airflow through the system.
Tip 5
Open windows whenever possible to allow cross breezes into your home. This can help with air circulation and reducing humidity levels. Opening windows at night is particularly effective at cooling a house down, just make sure you have a screen to keep the critters out!
Tip 6
Install solar panels on your roof. These panels use natural sunlight to generate power and do not require any fuel or external source of energy to produce electricity. You'll have to spend some money upfront to install them, but you'll be able to enjoy free energy for decades without incurring any additional expenses!
Tip 7
Make sure your thermostat is set correctly for the season. In winter months, turn it down as low as possible while still being comfortable indoors. In the summer months, turn it up as high as possible. This will allow you to save money on heating costs during winter and cooling costs during summer by only turning on your HVAC system when necessary.
These strategies will help keep your home cool this summer without breaking the bank. Cutting down on the amount of energy used in your home is important to reducing your carbon footprint as well as helping during a time when many of us are feeling extra pressure on our wallets. We hope that these tips accomplish both of these goals for you this summer, and if so, we encourage you to share them.
We offer window replacement services in the Greater Vancouver Area, the Fraser Valley, Victoria, Nanaimo, and Campbell River. Give us a call today and schedule your free consultation with our team of experts.