Even though there are no hard and fast rules about which way a casement window should open, there are a few things you should keep in mind to make it look and work its best.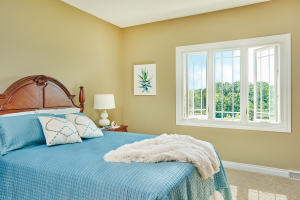 What Are Casement Windows?
A casement window is a moveable window that has one or more hinges on one side to connect it to its frame. Its operation is similar to that of a door, in that it can be opened outward as little or as much as you want, providing easy and worry-free usage. Casement windows offer many distinct benefits. They lend themselves to your home's aesthetics, thanks to their neat and simple design. More importantly, they give your living spaces access to natural ventilation. No matter if the weather is hot or cold, casement windows offer an easy way to let in some fresh air. They allow you to easily control how much air you'll let in. 
Considerations to Keep in Mind
The benefits you'll enjoy from casement windows depends on which way you want them opened. Here are some considerations to keep in mind when it comes to this particular aspect:
As the trusted window contractor in the area, we recommend placing casement windows on opposite sides of the house. This method helps you achieve a cross-breeze for your living spaces and makes the most of the airflow. If you're planning to replace your windows soon, make sure to use this optimized method of cooling to prevent mold growth and cut down on the amount of air conditioning you need.
Depending on where they are located in the house, casements are typically fitted with an outward opening and a side hinge. Homeowners also often decide where to put hinges based on which hand they use most. For example, if you're right-handed, it's easier to use casements that open to the right, and the same is true if you're left-handed.
Consider how the end product will look and match your property when determining which way to open casement windows. Many houses have side-by-side casements that open in opposite directions, like French windows. This improves ventilation, daylighting, and outdoor views.
We offer window replacement services in the Greater Vancouver Area, the Fraser Valley, Victoria, Nanaimo, and Campbell River. Give us a call today and schedule your free consultation with our team of experts.