When updating your home, it's tempting to focus on new flooring and cabinets without thinking about the condition of your windows and patio doors. But updating windows and doors can give your home an instant face-lift and improve its curb appeal. Over time, windows and doors break down and wear out. If your windows are more than ten years old and haven't been properly maintained, they may need repair or replacement.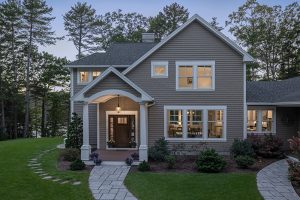 Here's what to watch out for:
Poor operation. If your windows stick or have to be forced shut, it's a sign that they may have poorly installed weather stripping. This allows air to escape through the frame and can allow moisture into your home during rainy seasons or winter months.
There's a draft. If you feel a draft coming through the edges of your windows, it usually means that the seals are faulty through bad weather stripping or faulty caulking.
Utility bills are high. For maximum energy efficiency, make sure your windows are double-pane. Many older homes have single-pane windows that don't provide enough insulation from outside temperatures. If this is the case, upgrading to double-pane windows will help improve energy efficiency.
There's fogging. When you see moisture between the panes of a window, it's usually caused by seal failure, which is the loss of air between the two panes of glass. Not only does this let in outside moisture, but it reduces the window's insulation.
There's water damage. Water damage from condensation or leaks occurs when windows aren't properly installed or if the weather stripping is faulty. If you notice water leaking into your frame or wall, it is likely that mold and mildew will grow, leading to peeling paint or wallpaper and more significant damage.
Window panes are cracked, chipped, or warped. If your window glass is cracked or chipped, it's time to replace it. Broken window glass can be dangerous if not replaced promptly because it poses a risk of injury. Cracked or broken windows also let in more of the outside environment and make it easier for someone to break into your home.
Window frames are rotten. If the wood around your window is soft, spongy, or waterlogged, it's rotten. This can happen when windows aren't properly sealed and too much moisture has come in contact with the wood. Check where your window frame meets the wall or siding; if there's rot or decay, you'll need to replace the entire unit.
Windows look old or outdated. If you want to improve your home's curb appeal, we recommend replacing outdated or unappealing windows. Our custom-made replacement windows offer a variety of styles and colour options so you can find the perfect fit for your home.
Give us a call today or fill out our contact forms to arrange a free consultation with one of our Design Consultants. We offer window replacement services in the Greater Vancouver Area, the Fraser Valley, Victoria, Nanaimo, and Campbell River