Fibrex® windows are quickly gaining popularity among homeowners thanks to their many impressive benefits. Of course, as the proprietors of this patented material, we know its advantages firsthand. Read on as we share the five main reasons why we recommend Fibrex windows above all others.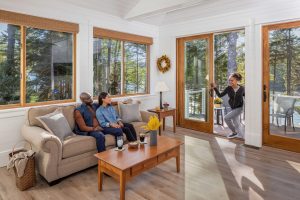 1. Durability
One of the most standout attributes of Fibrex is its remarkable durability. This unique composite material is twice as strong as vinyl, meaning your windows can withstand harsh weather and the test of time. All of our replacement windows are equipped with Fibrex frames, so no matter your choice, you're investing in products that will serve you well for years to come.
2. Energy Efficiency
Who doesn't love the sound of lower utility bills? Thanks to the first-rate insulation provided by Fibrex, you will see a noticeable decrease in energy costs. This material's excellent thermal insulation means your home stays warmer in winter and cooler in summer without overworking your heating and cooling systems.
3. Aesthetics
Fibrex isn't just about functionality; it's also about style. Available in a range of colours and designs, Fibrex windows can complement any home aesthetic, from modern and minimal to classic and traditional. Whether you're renovating living spaces or working on a new construction project, Fibrex windows will add charm to your home.
4. Low Maintenance
Replacement windows equipped with Fibrex also require minimal maintenance. Unlike wood that needs repainting or metal that can rust, this alternative framing material remains strong and beautiful throughout the seasons, without requiring too much of your time and effort for maintenance. 
5. Environmentally Friendly
In this day and age, making environmentally conscious choices is more important than ever. You'll be glad to know that Fibrex is made from a blend of reclaimed wood and thermoplastic polymer. Not only that, but you can also rest easily knowing that these windows are long-lasting, therefore reducing waste.
Give us a call or fill out our contact form to schedule a free, no-obligation consultation. We offer window and door replacement services in the Greater Vancouver Area, the Fraser Valley, Victoria, Nanaimo, Campbell River, and the Okanagan.