Vinyl is a popular material for window frames because it's cheap, easy to clean, and durable, at least in the short run. But in Vancouver's climate, where it's cold and wet in winter and hot in summer, you may run into issues with your vinyl windows after just a few years. Here are four reasons why vinyl tends not to last in the long run.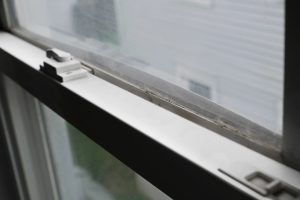 1. It warps in the Vancouver weather.
Vinyl is the worst material out of aluminum, wood, glass, or Fibrex® for holding its shape when it comes to temperature changes. It will expand and contract readily under heat and cold. In Vancouver, temperatures can change by up to 10 degrees Celsius in just a few hours. This relatively rapid change puts stress on your vinyl frames.
The problem is that over time, the shape of your frame will change. You'll end up with bent lines rather than the sharp ones you originally ordered. And it doesn't just look bad; this reshaping and constant warping of the vinyl can result in some issues, explored below, that can get very costly very quickly.
2. The glass can sheer through the vinyl glazing. 
Like we said, vinyl expands and contracts more than glass. Seven times more, in fact. So when you have a glass element attached to a vinyl element, you have one piece that's moving around a lot and one that's staying fairly still. This creates a lot of friction and can result in the glass sheering through the glazing.  
3. Poor vinyl joinery can leak.
It's not uncommon for older vinyl windows to have poor joinery. Between human error and inherent problems with the material itself, vinyl joinery is notoriously leak-prone. Poorly sealed vinyl window joints can cause water infiltration and lead to a host of problems. Leakage compromises the window's energy efficiency and may damage walls, flooring, and furnishings. Over time, persistent dampness may result in mold growth and wood rot or structural damage which are all costly and time-consuming to repair.
4. Vinyl insulated glass seals can fail.
Vinyl-insulated glass seals are prone to the same problems that afflict all vinyl products: they weaken with age, they warp or crack in extreme temperatures, and they deteriorate in harsh weather conditions. These issues can cause the seals to weaken, crack, or deteriorate, compromising the window's energy efficiency. When these seals fail, moisture enters the space between the glass panes, leading to condensation, fogging, and a reduction in the overall effectiveness of the windows.
All of the reasons above are why we use Fibrex for our window frame material. This patented composite material combines the strength and beauty of wood with the maintenance-free durability of vinyl. Fibrex will never require painting or sanding, and it won't crack under the extreme conditions found here in Vancouver. It lasts for decades!
Want to learn more about our durable, easy-to-maintain windows? Give us a call today or fill out our contact form to arrange a free consultation with one of our Design Consultants. We offer window replacement services in the Greater Vancouver Area, the Fraser Valley, Victoria, Nanaimo, and Campbell River.