During spring, many homeowners tackle chores and maintenance tasks they put off during the colder months. One of these tasks is washing windows. You can help maintain their appeal and ensure they last a long time by regularly cleaning them.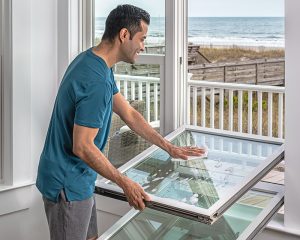 Do the Task on a Cloudy Day
When possible, clean your windows on a cloudy day or at night. The heat from the sun can cause cleaning solutions and water to dry quickly, leaving unsightly streaks on the glass.
Gather Your Supplies
To make window cleaning easier, have all your supplies ready. You'll need microfiber towels or lint-free cloths, soft sponges, a squeegee, a spray bottle, a manufacturer-recommended cleaning solution, and a long-handled squeegee for high and hard-to-reach places.
Remove and Clean Screens
Before you wash your windows, make sure you remove and wash the screens. Use a soft bristle brush and soapy water to remove dirt, dust, and other debris from the screens. After cleaning them, allow them to dry completely before replacing them back on your windows.
Clean the Glass, Frame, and Sill
Use a soft brush to dust window sills, hinges, and tracks. Wipe panes with a cleaning solution and a soft sponge or microfiber cloth. Be sure to get into the corners and crevices of the frames and sills.  Take your squeegee, dip its edges in clean water, and wipe the glass in an S-shaped motion. Don't forget to wipe the squeegee with a lint-free cloth or microfiber cloth every time you lift it. Remove the remaining moisture from the window using a clean cloth.
Sometimes, cleaning isn't enough to restore your windows to their former glory. If this is the case, it's time to invest in durable and energy-efficient replacement windows. At Renewal by Andersen® of British Columbia, we install superior windows protected by one of the industry's leading warranties. Give us a call or complete our online form to schedule a consultation.