ENERGY STAR® windows are independently tested, certified, and verified by the National Fenestration Rating Council (NFRC) to make sure they meet strict energy efficiency ratings. ENERGY STAR® windows are more efficient than conventional single-pane glass, reducing utility bills and carbon footprint. The ENERGY STAR® symbol is an internationally recognized and trusted mark of high efficiency—these windows are about 20% more energy efficient than the average window.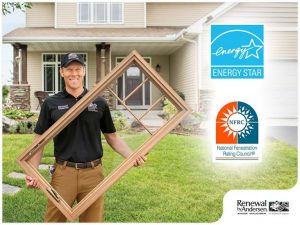 What is tested?
U-factor: a measure of the rate of heat loss
R-value: a measure of how well a specific type of insulation can resist heat flow
Visible transmittance (VT): a measures of how much light passes through glass
Solar heat gain coefficient (SHGC): a measure of how much heat enters through the glass from the sun
Condensation resistance rating (CR): a measure of how well the window prevents condensation from forming on its inside surface
Air leakage rating (AL): a measure of how much air leakage is in and around the frame of a window or patio door
What do I look for?
ENERGY STAR® certified windows have a sticker. The sticker has product identification information printed on it including the manufacturer's name, model number, testing metrics such as U-factor, certification number, as well as the blue ENERGY STAR® logo. This permanent label should be visible on the outside of the window, near the hardware. There may also be a National Fenestration Rating Council (NFRC) label with five numerical ratings on it.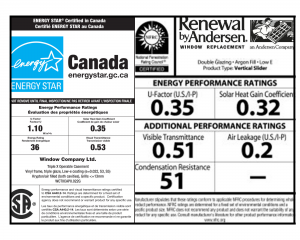 What if there's no sticker?
In rare cases, you may not see a sticker on your window because it was installed before ENERGY STAR® certifications were required for windows. In this case, you can contact the manufacturer directly to find out if your windows meet this criteria. You can also look online at the manufacturer's website or marketing materials for the ENERGY STAR® logo.
Are Renewal by Andersen's windows energy-efficient?
Yes! Renewal by Andersen displays the NFRC label on all of its windows. This label means that the entire window, not just the glass, has been rated and certified. All of our window frames are made from exclusive Fibrex® material, greatly limiting thermal transmittance. In addition, Renewal by Andersen is also listed as a retailer of ENERGY STAR® certified products on the nrcan.gc.ca website.
Lastly, because our windows are fully customizable, you can choose from different types of high-performance Low-E4® glass or enhanced triple pane windows. Select Renewal by Andersen windows with enhanced triple pane glass were designated as one of the Most Efficient ENERGY STAR® certified products in 2021.
We offer window replacement services in the Greater Vancouver Area, the Fraser Valley, Victoria, Nanaimo, and Campbell River. Give us a call today and schedule your free consultation with our team of experts.