We get a lot of questions this time of year asking if it's a good idea to replace windows or doors before warmer weather arrives. Many people want to know more about how a window or door installation even works in the winter.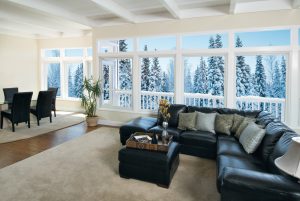 Our installers are best-in-class and have perfected the winter installation process. With our method, we work quickly and efficiently—never exposing your home to the harsh elements of winter. Most projects are completed in as little as one day—giving you immediate satisfaction with beautiful new windows and doors that improve the comfort of your home!
Here's how it works:
Our installers seal off the room they're working in. We use zip walls that enclose the area to keep pets, plants, and people comfortable in the rest of the home.
Zip walls prevent heat loss and ensure your home will have minimal exposure to the elements.
We cover and protect floors and furnishings from foot traffic, construction debris, and the harsh winter elements.
Two installers work on both the outside and inside of your home simultaneously.
The installers work on one window at a time, with each window being installed on average in as little as five minutes.
Each window is custom-manufactured to 1/8" of the opening so that installers can add additional insulation around the framework once they're in place, helping to maximize energy efficiency.
To learn more about the benefits of a winter installation, take a look at our blog post: Why You Should Replace Windows in Winter.
Our winter installation system makes it quick and easy. You don't have to suffer with cold, drafty, and inefficient windows for another winter. Our new windows can save you money and make you feel more comfortable in your home now! When you're ready to take the first step, give us a call or fill out our contact form to schedule a consultation. We offer window replacement services in the Greater Vancouver Area, the Fraser Valley, Victoria, Nanaimo, and Campbell River.