When it comes to homeownership, maintenance is the name of the game and windows are no exception. But did you know that replacing your home's windows can save you money in the long run?
You might be surprised by just how cost-effective this can be. So, if you're keen to learn more about the potential financial benefits of window replacement, you're in the right place!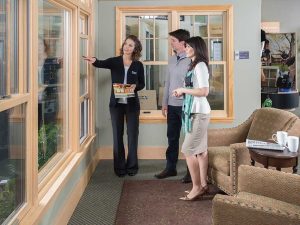 Enhanced Energy Efficiency
An essential way that window replacement can save money is by improving your home's energy efficiency. Old, drafty windows allow heat to escape during the colder months and let in warm air during the summer. This rapid temperature fluctuation challenges your HVAC system, leading to high energy bills.
In contrast, energy-efficient windows from a trusted window company can be tightly sealed, reducing air leaks. They often have special coatings that reflect heat energy (infrared light) while allowing visible light to pass through. This feature helps keep your home warm during the winter and cool in summer, minimizing your reliance on heating and cooling systems. As a result, you reduce your energy costs significantly.
Increased Home Value
Windows are one of the first things potential buyers notice. New, attractive windows can increase your property's value, meaning you could recoup a sizable part of your investment if you sell your home. Having a trustworthy window contractor handle the window replacement ensures the job is done professionally, giving your home an impressive appearance and feel, which can be a significant selling point.
Lower Maintenance Costs
Due to wear and tear, old windows typically require regular maintenance such as painting, caulking and occasional repairs. Hiring a window company for window replacement can help you save on these maintenance costs.
Modern windows are designed to be low-maintenance. They resist fading and discoloration and don't need painting. Thus, they help you save on maintenance costs over time.
Reduced Insurance Premiums
Believe it or not, installing replacement windows can qualify you for reduced home insurance premiums. Some insurers view new windows as a lower-risk investment due to their enhanced security features and structural integrity. Therefore, you could score reduced premiums, saving you money yearly.
Drawbacks of Not Opting for Window Replacement
You face escalating energy costs, regular maintenance fees and potentially lower house value without replacing old windows. In the long term, the price of not replacing old, faulty windows could be far greater than the initial outlay for quality, energy-efficient windows.
Replace Your Windows With Renewal by Andersen® of British Columbia
A window contractor can make this process seamless. Choosing a reputed window company, like Renewal by Andersen® of British Columbia, ensures you're making a sound investment. Give us a call or fill out our contact form to schedule a free, no-obligation consultation. We offer window and door replacement services in the Greater Vancouver Area, the Fraser Valley, Victoria, Nanaimo, Campbell River, and the Okanagan.