As a homeowner, choosing good replacement windows for your home can be confusing. You'll have to consider which style and material is best for your home. But it's also important to choose windows that give good performance and function, so it can help improve your home's ventilation. If you're not sure which replacement windows to choose, we're sharing some of our popular window styles to consider. With windows made by Renewal by Andersen®, you can be confident that they're built to last.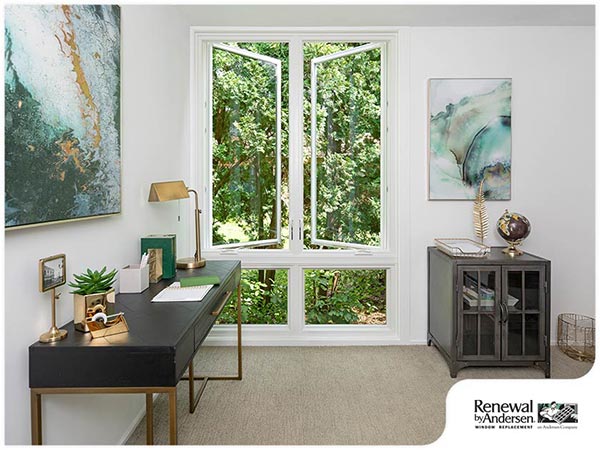 Casement Windows
We recommend going for this type of window if you want to maximize ventilation. Our casement windows are mounted on a hinge on one side and swing outward when you open them. They're either operated manually or on a crank or motor depending on which type you choose. You can partly open a casement window when you want to catch a light breeze or open them fully to take in fresher air on warmer days. When you decide to close your casement windows due to strong winds or heavy rain, they can seal even tighter when the wind blows against them, so you won't have to worry about any air leaks.
Bay Windows
Our bay windows consist of three side-by-side windows that project from the home's exterior wall at a certain angle. The central window is often fixed while the windows on either side are casement windows. Once installed by a trusted professional window contractor, these become great for ventilation because the two side windows placed at opposite angles can catch breezes flowing in multiple directions.
Horizontal Sliders
Unlike casement windows, these don't protrude outside when you open them. Instead, one operable sash slides over a fixed sash. We recommend going for this type of window if you have limited indoor and outdoor opening space. This can also be installed in areas along walkways or patios where you don't want any obstructions but still need the ventilation for indoors. Keep in mind that with this type of window, it can only be opened halfway. If you're planning to install these windows on a higher floor, we recommend restricting the opening unless absolutely necessary.
When it comes to excellent window installation, hire only the best window company in the area. Call Renewal by Andersen of British Columbia at (604) 800-5176, or contact us online. We serve Delta, Vancouver, and surrounding BC areas.