Are you considering replacing the windows and doors in your home? Embarking on this project can be an exciting step towards enhancing your living space, improving energy efficiency, and adding value to your property. But what can you expect when you choose Renewal by Andersen of British Columbia for your window and door replacement needs? Let us break it down for you!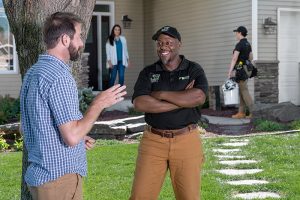 Free In-Home Consultation
Once you reach out to Renewal by Andersen, our team will schedule a convenient time for a free in-home consultation. During this visit, our expert consultants will assess your current windows and doors, listen to your needs and preferences, and provide personalized recommendations. They will also take precise measurements to ensure a perfect fit for your new windows and doors.
Custom Design and Tailored Solutions
Renewal by Andersen believes in the power of customization. With an array of design options, colours, hardware, and finishes, we will work closely with you to create the windows and doors that perfectly reflect your style and complement your home's architecture. Our team will guide you through the selection process, helping you choose the ideal combination to achieve your desired look and functionality.
Professional Installation
When it comes to installation, rest assured that every Renewal by Andersen project is handled by skilled and certified installers. Our installers take pride in their craftsmanship, ensuring the utmost precision and attention to detail during the installation process. They will treat your home with care, minimizing disruption and leaving your space cleaner than they found it.
Quality and Durability
At Renewal by Andersen, we are committed to delivering top-notch quality. Our windows and doors are constructed using innovative materials like our exclusive Fibrex® composite, which combines the strength and durability of wood with the low-maintenance benefits of vinyl. Plus, our products are backed by one of the best warranties in the industry for your peace of mind.
Energy Efficiency and Comfort
Replacing your windows and doors with Renewal by Andersen products can significantly enhance energy efficiency, resulting in potential savings on your hydro bills. Our windows feature high-performance glass options and advanced weatherstripping, effectively reducing drafts and heat transfer. Experience improved comfort in your home throughout the year, no matter the weather outside.
Exceptional Customer Care
Renewal by Andersen takes pride in providing exceptional customer care. We strive to make the entire window and door replacement process as smooth and stress-free as possible. From the initial consultation to post-installation support, our dedicated team is here to address any questions or concerns you may have. Delighting our customers is our top priority. 
Getting your windows and doors replaced by Renewal by Andersen of British Columbia means experiencing unmatched quality, customized solutions, and outstanding customer service. So, are you ready to transform your home's appearance and functionality? Give us a call today or fill out our contact form to arrange a free consultation with one of our Design Consultants. We offer window replacement services in the Greater Vancouver Area, the Fraser Valley, Victoria, Nanaimo, and Campbell River.