As fall weather rolls in and the evenings become cooler, you may notice a few drops of moisture on your windows. This is called condensation and often happens when warm indoor air meets cold glass. Don't worry—it's a common occurrence!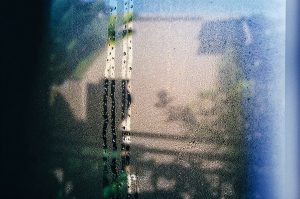 Think about a cold beverage on a hot day. Water forms on the outside of the glass when its cool surface meets the warm, humid air. This causes water to condense on the surface and run down. The same as on a window. While it may seem counter-intuitive, the appearance of condensation on the outside or inside of your window is actually a good thing. Condensation will appear on even the best-performing windows—in fact, it might be more noticeable on high quality windows since they are more energy-efficient.
Condensation can actually be a sign that your home is well sealed. The very things that make homes more energy efficient—windows and patio doors that reduce air leakage, weather-stripping, high-quality insulation, vapor barriers—also lock moisture inside your house. Moisture is a natural part of life. Every time someone in your household takes a shower or cooks, moisture is released into the air, increasing indoor humidity.
In British Columbia, where fall and winter tends to be cold and wet, it's important to try and minimize indoor humidity. Some ways to do this include:
Opening the blinds and drapes to let out moisture-laden air.
Raising the air temperature in your home to decrease relative humidity.
Turning on ceiling fans for more air circulation.
Running exhaust fans in the kitchen and bathroom and leaving them running for 15 minutes or longer to clear out lingering moisture.
Ensuring proper ventilation of appliances, like dryers, to the outside.
For more information on relative humidity and condensation in your home, take a look at this video:
Thinking of replacing some of your older windows with new energy-efficient ones? Get the best ENERGY-STAR® replacement windows to ensure maximum efficiency and curb appeal with Renewal by Andersen of British Columbia. We can help you find the perfect windows for your home.