Renewal by Andersen windows are among the most energy-efficient windows in North America, saving on both cooling costs and greenhouse gas emissions. Our windows have earned Energy-Star® ratings for superior efficiency in cooling and heating. Many homeowners find that Renewal by Andersen windows and doors reduce monthly hydro bills by up to 20%!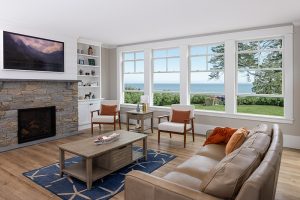 What makes our windows so energy efficient?
We use a special Low-E coating on our windows. Low-E is a low-emissivity glass coating that reduces heat transfer by preventing infrared heat radiation and harmful UV rays from entering the home through the window.
Our windows are designed with a tight-fitting seal and weather-stripping around the glass to seal out air infiltration and seal in energy savings.
Our exclusive Fibrex® frame material in our windows blocks thermal transfer nearly 700 times better than aluminum, helping keep the heat outside where it belongs. Fibrex® has the added benefit of being resistant to heat and moisture, so you don't have to worry about warping like vinyl or rotting or swelling like wood.
Our windows are filled with a proprietary argon gas mixture that increases window energy efficiency by blocking heat conduction between the interior and exterior of your home.
Renewal by Andersen's Energy-Star® certified windows are TWICE as efficient as the average windows manufactured ten years ago. That's double the savings on your energy bills!
Premium glass means better energy efficiency than standard glass. Our Energy-Star® rated windows lower thermal conductivity, so they keep air cool during the summer and keep your home comfortable year-round. Energy-efficient windows are an investment that pays off in the long run.
Call us today or fill out our contact form to arrange a free consultation with one of our Design Consultants. We offer window replacement services in the Greater Vancouver Area, the Fraser Valley, Victoria, Nanaimo, Campbell River, and the Okanagan.