Are you considering upgrading your windows with us? Congratulations! We can't wait to help you enhance your home's beauty, comfort, and energy efficiency. To ensure a successful design consultation and make the most out of the experience, we've compiled a quick guide on preparing for your consultation. Let's dive in!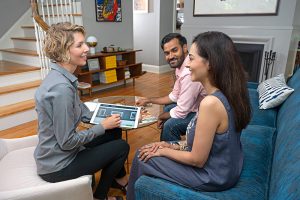 To fully prepare for your consultation, we recommend taking these steps:
1. Research and find inspiration.
Begin by gathering inspiration and ideas for your window project. Look through home design magazines, websites, and social media platforms for ideas on different window styles, materials, and finishes. Look at windows in your neighbourhood and take photographs of the ones you like. Pay attention to the architectural style of your home and consider how new windows can complement it. Make a list of features and functions that are important to you, such as operable or non-operable, noise reduction, energy efficiency, or privacy.
2. Identify problem areas and goals.
Identify any specific issues or problem areas related to your current windows. Is there a room that lacks natural light? Are you struggling with drafts or noise disturbance? By pinpointing these concerns, you can communicate them to your Design Consultant, ensuring that your needs are addressed.
Next, decide on your goals for the project. Do you want to improve the curb appeal of your home? Increase energy efficiency? Create a more open and spacious feeling indoors? This will help your consultant understand your vision and offer tailored solutions.
3. Determine your budget.
Figure out your budget for this project. Having a clear idea of your budget will help the consultant narrow down the available choices and suggest the most suitable window solutions for your needs. If you're interested in financing, please ask about our Smart Pay programs.
4. Prepare your questions.
The design consultation is an opportunity for you to gather information. Preparing a list of questions to ask the consultant is always a good idea. For example, you may want to enquire about the quality of the materials, the warranty coverage, or the timeline for the project. Having questions ready will ensure you get all the information you need to make an informed decision.
5. Prepare the area.
Before the consultation, ensure the space around any windows or patio doors being discussed is clear. Remove any furniture, curtains, or blinds that might obstruct the consultant from seeing the windows or patio doors clearly and taking accurate measurements. This will allow for a more efficient and productive consultation.
6. Schedule the consultation.
We'd love to arrange a time for us to come talk with you about replacing your windows or patio doors. While in-person consultations are best, virtual consultations are also an option. During the consultation, we'll design your new windows or patio doors, confirm product sizes and specifications, review our installation process from start to finish, and provide an information package and a full quote.
By following these steps, you will be well-prepared for your design consultation. If you aren't able to follow all of them, please don't worry. Remember, our experts are here to guide you through the process, answer your questions, and help you achieve the window transformation of your dreams. Ready to take the first step? Give us a call or fill out our contact form to schedule a free, no-obligation consultation. We offer window and door replacement services in the Greater Vancouver Area, the Fraser Valley, Victoria, Nanaimo, Campbell River, and the Okanagan.