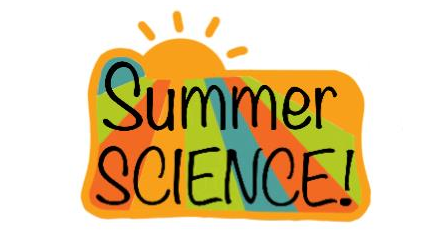 This groovy science experiment is courtesy of Ben Goebel, a Renewal by Andersen RD&I Engineer Manager.
Supplies
1 Glass
1/4 cup water
1/2 cup vegetable oil
Food colouring
Alka-Seltzer tablet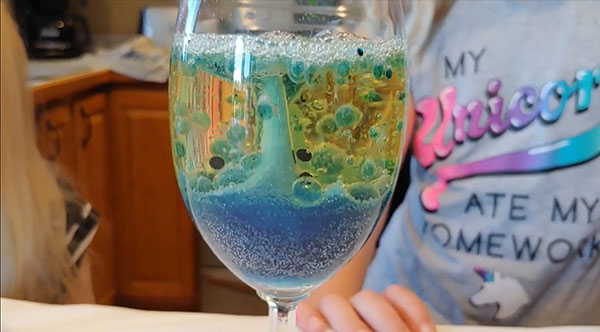 Instructions 
Step 1 – Add the water to the glass. It should fill only about the bottom 25% of the glass.
Step 2 – Slowly add the oil to the glass. With water and oil together, it should fill about 75% of the glass. Notice the water and oil remain separated.
Step 3 – Add 5-10 drops of food colouring to the glass, depending on how strong you want the colour.
Step 4 – Finally, add 1 Alka-Seltzer tablet to the glass. Watch as the tablet dissolves in the water layer, releasing bubbles that mix with the food colouring and rise through the oil layer.
Key Principles
Chemical compounds, such as oil and water, are made up of different elements. These elements are bonded together to make molecules. Water is made up of hydrogen and oxygen. Oil is made up of mostly carbon and hydrogen. Because oxygen and hydrogen form polar bonds and carbon and hydrogen form non-polar bonds, these materials do not mix. They behave like magnets repelling each other, but on a molecular level.
The Alka-Seltzer is made of citric acid (powder) and sodium bicarbonate (powder), which is a base. When the Alka-Seltzer is added to water, the water allows the acid and base powders to react together. The reaction produces carbon dioxide gas, released as bubbles, and sodium citrate salt, which you see on the bottom of the glass after the reaction.
Since gas is less dense than liquid, the bubbles rise through the water layer, mix the food colouring, and carry it through the oil layer, before they pop on the surface. The food colouring is water based, so it falls back through the oil layer, settling in the water layer.
It's interesting to note that the acid-base reaction in this experiment is "endothermic." That means it absorbs heat from the water while reacting, which actually cools the water by the end of the reaction. 
Want to do more?
What do you think would happen if you did this with very cold water? 
What about very hot water?
What if, instead of water, you used a clear soda, such as 7-Up or Sprite?
If you add different liquids to the glass, do they settle into the water layer or the oil layer? This can tell you if the liquid is "water-based" or "oil-based." What about juice? Salad dressing? Ketchup? Mustard? Vinegar?
Share your experiment fun
Did your experiment go as planned? Were there any surprises? What might you do differently next time? Tell us about your experience through words and pictures on our Facebook page! Be sure to tag @AndersenWindows and use #AndersenWindows with #SummerScience. 
Thanks for joining our Andersen scientists and adding STEM into your summer!