Choosing the perfect windows for your home can be a daunting task, especially when faced with understanding complex performance ratings. To make an informed decision, it's essential to know the difference between Solar Heat Gain Coefficient (SHGC) and U-Value ratings. In this blog post, we'll explore these terms and ratings to help you understand their significance in selecting the right windows for your home.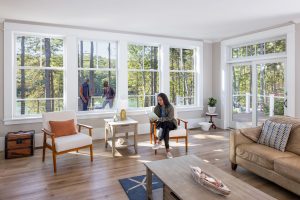 What Is SHGC?
SHGC is a measure of how much solar radiation passes through a window and contributes to the heating of your home. It is expressed as a number between 0 and 1. The lower the SHGC, the less solar heat the window allows to pass through and the better it is at blocking heat gain.
Understanding SHGC is crucial when selecting windows, especially in areas with hot summers or generally sunny climates. In such locations, a lower SHGC can help keep your home cooler and reduce your air conditioning costs.
What Is U-Value?
U-value, on the other hand, measures the rate at which a window conducts non-solar heat transfer. It indicates how well a window insulates your home from outside temperatures, whether it's hot or cold. A lower U-value means the window has a better insulating property, helping maintain a comfortable indoor temperature and reducing energy consumption.
When you live in a cold region or an area that experiences significant temperature fluctuations, U-value is an essential factor to consider. Choosing windows with a low U-value can help reduce heating costs during winter and maintain a comfortable indoor environment.
Replacement Windows in Vancouver
Our variable climate here in Vancouver means energy efficiency should be a top priority for homeowners. Understanding SHGC and U-value ratings will help you choose windows that not only improve your home's comfort but also reduce energy consumption, resulting in lower utility bills. Selecting the right windows based on their performance ratings can also increase the overall value of your home. Checking window performance ratings can be overwhelming, but Renewal by Andersen® can provide you with valuable guidance. For quality windows and installation services, reach out to the experts at Renewal by Andersen of British Columbia. We offer window services in the Greater Vancouver Area, the Fraser Valley, Victoria, Nanaimo, and Campbell River.