Renewal by Andersen offers a wide range of expertly crafted custom windows. Our windows are manufactured just for you and are available in a variety of shapes and colours, grille patterns, and glass options. If you're having trouble finding the right windows for your home, custom windows may be the perfect solution.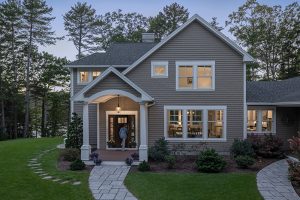 With custom windows, you can:
Homebuyers look to a home's windows to provide curb appeal and as a measure of its condition. Updated windows increase a home's perceived value, but stock windows from big box stores are often poorer quality, less durable, and may require additional structural work to install. Custom windows improve the value of your property while improving the view.
New windows can add beauty to your home, and a specialty custom window can have an even greater visual impact. When you're remodeling or decorating, you'll likely want the windows to complement the updated interior. You might want your windows to be larger, smaller, or even an unconventional shape to suit your room or furniture. Round, oval, and even triangular windows will fit spaces that standard windows can't.
You're throwing money "out the window" if your home has windows that are single-pane or are old and inefficient. Part of the reason custom windows achieve the highest energy efficiency is that they fit perfectly into the existing opening without any gaps between the window frame and walls. Renewal by Andersen is an ENERGY STAR Partner of the Year; our windows take advantage of the newest technologies to help lower hydro bills and keep your home comfortable.
Experience easier installations.
Installing standard windows from a hardware store may be more complicated than you anticipate. You may need to trim out the wall or add some molding to make the window fit. Custom-made windows are made to the exact specifications of the space. They require less prep work and fewer additional materials to complete installation.
Have more light and space.
One of the main challenges with smaller rooms is allowing in enough light. A lack of natural light makes a room feel smaller. You can order custom windows to fit any wall in your home, no matter how small the room. The larger the window, the more light and space a room appears to have.
Renewal by Andersen can help you create the perfect window for your home. Our specialists will evaluate your current windows and suggest changes to add more light, space, and style to your home. They'll even help you add a window to an existing space. Give us a call or fill out our contact form to schedule a free, no-obligation consultation. We offer window and door replacement services in the Greater Vancouver Area, the Fraser Valley, Victoria, Nanaimo, Campbell River, and the Okanagan.