Installing new windows can be an expensive undertaking for homeowners. To save money, some are tempted to try this as a do-it-yourself project, but window installation is not a job for amateurs.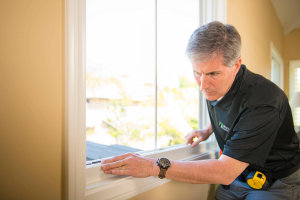 Installing windows yourself can be a task filled with many problems, from the size of your window opening to improper sealing, alignment, caulking and flashing adherence. To get the most out of new windows, you'll want to have quality installation work performed by professionals.
When you hire Renewal by Andersen, you can count on:
Professional results: Our installation experts have been trained extensively in the art of window installation and can ensure that your windows are installed with care and precision.

High Quality Products: With Renewal by Andersen, you can choose from exclusive materials such as Fibrex® and custom-made windows that fit each home's unique needs. With DIY, you're limited to off-the-shelf products or online orders that could get damaged during shipping.

Savings on Installation Cost: Do-it-yourself installation may save you money in the short-term, but it requires having certain skills and purchasing the necessary tools. More importantly, mistakes when doing it yourself can be expensive to fix. Specialists have all the necessary equipment and guarantee their workmanship.

Safe Installation: When you need to replace upper-story windows, hiring professionals like us will help ensure the job is done safely. A DIY approach can be dangerous.
Renewal by Andersen is the longest-running window and patio door brand in North America, trusted by homeowners for over a century. We pride ourselves on being customer-centric and providing superior service with our products. We offer window replacement services in the Greater Vancouver Area, the Fraser Valley, Victoria, Nanaimo, and Campbell River. Give us a call today and schedule your free consultation with our team of experts.