The first week of April is Window Safety Week. April is the time of year when everyone wants to throw open their windows and let in the fresh air, but it's also a time when accidents and falls from windows are statistically more likely to happen.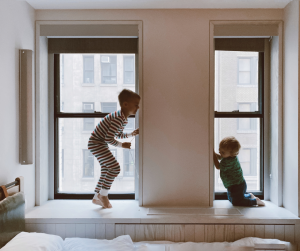 The good news is that window accidents are easy to prevent. Anyone can take the necessary steps to help keep their family safe and secure. To help you stay safe around windows, we've put together a list of our top window safety tips and included some resources below:
Keep furniture and other objects away from windows to prevent children from climbing up to them. Children should be taught not to jump on beds or couches and never allowed to play on or near window ledges.
When young children are around, make sure windows and doors are locked. Set rules about playing away from windows and patio doors, and make sure they follow these rules. Falling through glass can cause serious or even fatal injuries.
To soften the impact of a possible fall, consider planting shrubs or other soft edgings beneath windows.
Don't rely on window screens to prevent falls. These screens are designed to keep insects out, not people. They cannot support a person's weight, even that of a small child, and will not prevent a fall.
When you open a window for ventilation, make sure that young children cannot reach it or open it fully.
If you use window guards or restrictors on the interior of your windows, make sure they are operable and can be easily removed. Practice detaching these guards with your children in case of an emergency. Keep in mind that some windows, like bedroom windows, need to meet egress requirements and should not be restricted.
Make sure each bedroom has at least one window that meets escape and rescue requirements. Teach your children how to safely use the windows as a way out during a fire, and practice your family's emergency escape plan regularly.
Adult supervision is the best way to keep children from falling out of windows. When you watch small children, make sure that their play areas are away from windows.
Window safety handouts:
If you have old, nonfunctioning or unsafe windows that need to be replaced, give us a call or fill out our contact form to schedule a consultation and see how we can help you. We offer window replacement services in the Greater Vancouver Area, the Fraser Valley, Victoria, Nanaimo, and Campbell River.