We pride ourselves on the quality of our materials and the expertise of our installations. But even the best windows installed with the best skill need some care and attention if they're going to last you as long as possible. This quick guide will walk you through how to care for your Renewal by Andersen windows so that they last a lifetime. Don't have Renewal by Andersen windows? See how easy they are to care for!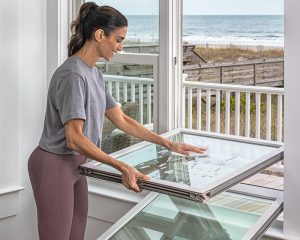 Glass Care
Renewal by Andersen replacement windows are equipped with High-Performance™ Low-E4® glass, which works together with our Fibrex® frames in providing long-term performance, beauty, and energy savings. The Low-E4 glass coating has been specially formulated for easy cleaning although there are things that even a high quality class coating can't prevent, like dust, dirt, and the occasional stain from spills and splashes.
Cleaning the glass really couldn't be easier. First, wipe the glass down with a soft dry cloth. This will remove dust and grime that might have built up.
Once you've wiped the window down, apply a mild cleaning solution. We recommend you use soapy water, diluted vinegar, or a liquid window cleaner. Use a clean, lint-free cloth to wipe down the window in a circular motion.
To minimise residue on the glass, we recommend not applying glass cleaner in direct sunlight. Instead, clean between temperatures of 4°C-29°C.
Avoid abrasive cleaning products, scrub pads, and rust removers containing hydrofluoric acid, as they can cause permanent damage to the coating.
That's it! It's really that easy to keep your window glass shiny and clean. For best results, you should check your windows about once a week or so. The longer grime and dust have to build up on the glass, the harder it'll be to remove them.
Fibrex Frame Care
We use our patented Fibrex material for all of our window frames. One of the biggest selling points of Fibrex is the ease of cleaning and maintaining it compared to other materials such as wood.
Simply wipe down frames, sash, and grilles with a mild solution of soapy water and a soft, non-abrasive rag or brush.
There is one catch: do not use newspaper or other ink-based papers. They can — and will — stain and discolour the Fibrex material. (Keep this in mind when wiping down your glass as well!)
Insect Screens
TruScene® insect screens have been designed to keep the bugs out and the light in. TruScene uses a fine mesh that's a perfect barrier for insects but is fine enough that you hardly lose any light coming in your windows. That being said, if dust and debris build up on that mesh, it doesn't matter how fine it is. You're going to start losing light.
Use a soft, damp cloth to clean all screens. No soapy water or cleaning product is required. For a complete clean, you'll want to remove the screen from the frame first. To do this:
Release the latches from the side jambs.
Hold the screen tight and gently push outwards to clear the sill.
Tilt the screen away from you and pull it inside.
Wipe down as needed and reverse the process to reinstall.
Lubrication and Corrosion Resistance
For those with casement, double-hung, gliding, or awning windows, or one of our patio doors, you'll want to keep them well-lubricated. We recommend applying a dry lubricant once a year to all moving parts including hinges and rollers.
While our products are always designed to resist corrosion, you'll need to give it a bit of a helping hand to keep it protected. Lubricants with corrosion inhibitors will keep your moving parts safer for longer in damp and humid environments.
Please note: do not use wet lubricants or harsh, solvent-based greases on your moving parts. These will not only damage your windows but will actually collect particles that promote corrosion.
With these simple steps, you'll keep your Renewal by Andersen windows alive for longer. Don't forget that all Renewal by Andersen windows come with our exceptional 20-2-10 limited warranty. That means 20-years limited warranty on glass, two-year limited warranty on installation, and ten-year limited warranty for all non-glass components.
Want your own easy-to-maintain windows? Give us a call today or fill out our contact forms to arrange a free consultation with one of our Design Consultants. We offer window replacement services in the Greater Vancouver Area, the Fraser Valley, Victoria, Nanaimo, and Campbell River.